Losing teeth is never a fun experience, but it's something that happens to many people. Missing teeth can be a major dental issue, both functionally and aesthetically. If you are missing one or more teeth, you may feel self-conscious about your smile and reluctant to laugh or smile in public. You may also find it difficult to speak or eat properly. Thankfully, dental implants can provide a solution for those who are missing teeth. In this blog post, we will discuss dental implants and how they can help you get your smile back!
What Are Dental Implants?
Dental implants are a great option for replacing missing teeth. They involve placing a titanium rod into your jawbone and an artificial tooth or crown on top.
Why Choose Dental Implants?
Dental implants are fast becoming the preferred method of replacing missing teeth. They are the best option for replacing missing teeth because they look and function just like natural teeth. Other options, like dentures, can be loose and uncomfortable, and they don't look as natural as dental implants.
Advantages of Dental Implants
They're secure, comfortable, and very durable. They can last a lifetime with proper care. In addition, dental implants do not require special care beyond brushing and flossing like dentures do. With dental implants, you'll be able to eat and speak just like you did before you lost your teeth. And because they're securely fixed in place, you won't have to worry about them coming out at inopportune moments like when you eat or talk.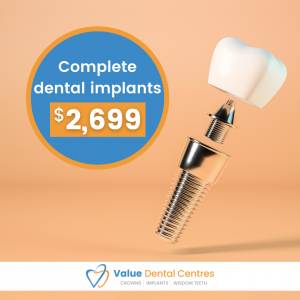 Disadvantages of Dental Implants
The biggest disadvantage of dental implants is the cost. They are usually more expensive than other tooth replacement options such as dentures or bridges. In addition, the surgical procedure to place the implants can be complex and may require multiple appointments. There is also always a risk of complications. It's best to discuss all your options with your dentist specifically.
What Is the Procedure Like?
The great thing about our dental implants is that they can be placed via keyhole surgery thanks to precision guided technology. This minimally invasive procedure is much less intrusive than traditional surgery used by other practices, and it results in less trauma, discomfort and a quicker recovery time. You'll be back to eating all your favourite foods and smiling with confidence in no time!
The process starts with a consultation and 3D x-ray so our dentists can get a better idea of your mouth. Then, the titanium implant is placed into the jawbone and you'll have to wait 12 weeks for it to integrate with the bone. Once it does, the implant is ready to have the artificial tooth placed on top. You won't have to worry about the implant coming out or anything like that because it's securely fixed in place.
If you're missing teeth, don't panic! There are plenty of options available for replacement, and dental implants are one of the best. So what are you waiting for? Give us a call today and let us help you get your smile back!
Our Clinic
There are many factors in making a decision for your dental work so if you are in need of a smile makeover the best place to start is by booking a FREE cosmetic consultation with our experienced and qualified team. We will be able to assess your smile and provide you with treatment options to help you achieve your desired results.
Our clinics offer an innovative approach to expensive dental work that had Australians flocking overseas to risk their health for poor results. Now you can have Australian-quality dental treatments locally but for overseas prices! Learn more about our dental implant services.
Contact us to book in for your FREE consultation and assessment and to make a treatment plan from there.