People don't usually associate the word "fun" with the dentist. Dental procedures can be invasive and to some, a little frightening. Especially if a past visit to the dentist has caused them some mild to moderate pain during a dental procedure. The team at Value Dental Centres is here to lighten the mood and share some fun facts about dental implants we think you should know!
The best fun fact we have is that we offer quality dental implants at unbeatable prices! Continue reading below to find out some other interesting facts about dental implants and get in touch with Value Dental Centres today for a free consultation.
Facts You Should Know About Dental Implants
Dental Implants Rarely Hurt or Only Cause Mild Pain
If you have missing, cracked or damaged teeth, you might benefit from dental implants. While this dental process sounds meddlesome, dental implants rarely cause pain to patients. If they do happen to cause pain for whatever reason, the pain is mild and only lasts for up to 48 hours. Patients have told us that having a smile that gives you confidence and poise is worth the minimal pain.
Dental Implants Look and Feel Like Natural Teeth
Dental implants feel just like your natural teeth. The Value Dental Centres team pays close attention to detail to make sure the implant looks like a perfect fit with all of your other teeth. Our professionals carefully measure and place each implant so that they appear as if they have always been there, giving you an even more beautiful smile!
You Can Eat Your Favorite Foods Again With Dental Implants
Missing teeth can make it difficult to bite into certain foods or chew them properly. With dental implants, patients are able to eat their favourite foods again without any worries about their teeth slipping out of place. Value Dental Centres designs dental implants for maximum comfort during meals, so you can eat without worry and keep your smile looking great.
Dental Implants Can Last for Decades
The Value Dental Centres team takes special care when placing dental implants to ensure that the process is done correctly. Proper placement of implants can help them last for decades. This means that with regular maintenance and check-ups at Value Dental Centres, you could have a beautiful, natural-looking smile for years to come!
Dental Implants Come With Added Health Benefits
Dental implants come with a variety of health benefits, including improved oral health, decreased risk of infection in the jaw, and even better speech. Not to mention the mental health benefits of having a radiant smile that gives you confidence in social situations.
Value Dental Centres is committed to providing a superior dental experience that will give you more than just a beautiful smile.
Want to Pay Less for Dental Implants?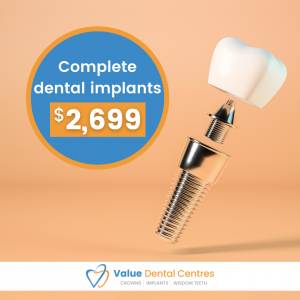 Don't find yourself out of pocket this Christmas and check out our incredibly cheap prices for front and back dental implants at Value Dental Centres.
If you have any questions about the health benefits of dental implants or would like to book a consultation, Value Dental Centres is here for you.
At Value Dental Centres, we're passionate about providing our patients with quality dental care and look forward to helping you get your perfect smile. Book with us today to learn more about how dental implants can benefit you!