Not only can your teeth issues affect your confidence and self-esteem, but these issues have follow-on effects to your relationships and career. You cannot be your best self if you are stressed over the state of your smile and it is pretty hard to hide! Do you dream of a smile makeover?
If you're unhappy with your smile, you don't need to suffer any longer. There are cosmetic dental treatment options to help you achieve the goals you have for your teeth.
Treatment options for a smile makeover
Our two main smile makeover treatment options of veneers or crowns will depend on the state and overall health of your teeth. Both veneers or crowns can give you the smile of your dreams but there are key differences between the two treatments that you should be aware of before making a decision. We are passionate about aesthetic smile makeovers so no matter which option is best suited to you, we will achieve a life changing result that you will be thrilled with!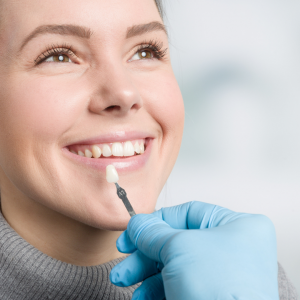 Crowns
Crowns are caps that are placed over your entire tooth, are often used to restore teeth that have been damaged or decayed and typically take three visits to complete and require some prep work.
Veneers
Veneers are thin pieces of porcelain or composite material that are bonded to the front surface of your teeth. They can be used to correct many different aesthetic concerns such as gaps, chips, and discoloration. Veneers are less invasive than crowns, can be completed in two appointments and require minimal to no prep work depending on the case.
Next steps for your smile makeover
There are many factors in making a decision for your dental work so if you are in need of a smile makeover the best place to start is by booking a FREE cosmetic consultation with our experienced and qualified team. We will be able to assess your smile and provide you with treatment options to help you achieve your desired results.
Our clinics offer an innovative approach to expensive dental work that had Australians flocking overseas to risk their health for poor results. Now you can have Australian-quality dental treatments locally but for overseas prices! Learn more about our cosmetic dental services.