Do you have chipped or broken teeth that are affecting your self-esteem? Understanding the process of fitting a dental crown might help you with your oral healthcare concerns.
Dental crowns, also known as caps, are cosmetic dentistry treatments used to improve the look and feel of a patient's teeth. They are typically made from gold or porcelain and cover the entire tooth to restore its shape, size, strength and appearance. Dental crowns can be used for cosmetic purposes such as repairing chipped or discoloured teeth, but they can also be used for medical reasons such as protecting weak pulp or fixing broken teeth.
At Value Dental Centres we understand how important it is for our patients to have a beautiful smile that looks natural – which is why we offer dental crown services tailored to each individual's needs. Our experienced staff will take the time to walk you through every step of the process to ensure that you get exactly what you need out of your treatment plan. We will assess your oral health condition and recommend cosmetic solutions based on your unique case to give you back your ideal smile!
What are Dental Crowns and How Can They Improve Your Smile?
A dental crown is a cosmetic dentistry treatment that fits over an existing tooth to restore its shape, size, strength and appearance. The crown can be made from either gold or porcelain material and is designed to mimic the look of your natural teeth.
When you have a dental crown fitted at Value Dental Centres, we will start by taking a detailed scan of your teeth to determine the perfect fit for your crown. We can then use this data to create a replica of your tooth, which will be crafted in our state-of-the-art laboratory. Once you have approved the design and colour, we will carefully place your new dental crown on top of your existing tooth.
The Benefits of Fitting a Dental Crown
In addition to cosmetic benefits such as restoring shape and size, dental crowns also offer various medical advantages:
• They help prevent further damage to weak or decaying teeth
• They provide support for broken teeth
• They act as a cosmetic solution for chipped or discoloured teeth
• They can be used to correct cosmetic issues such as gaps between teeth
Is Getting a Dental Crown Right for You?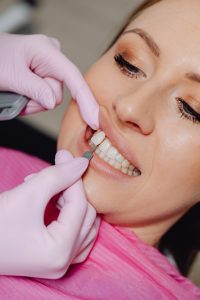 If you're looking for a cosmetic solution to improve the look and feel of your teeth, then a dental crown may be just what you need. At Value Dental Centres, our experienced team of cosmetic dentists can provide you with personalized advice on whether dental crowns are the right choice for your unique case.
So why not get in touch with us today to arrange an appointment? Our friendly staff will be more than happy to answer any questions or queries you may have about the process of fitting a dental crown! We look forward to helping you achieve the smile you deserve.