Whether you want to look your best for special occasions, improve your self-confidence or simply boost the appearance of your smile, cosmetic dentistry can help. Value dental centres are an ideal choice when it comes to investing in a smile makeover. Value dental centres works with experienced practitioners who use advanced technology and techniques to bring out the best in their patient's smiles. Below is a step-by-step look at what's involved in a smile makeover.
What Dental Treatments are Involved in a Smile Makeover?
The procedures involved in a smile makeover will depend on the patient's dental health and the desired outcome of the cosmetic procedure. The most popular treatments include:
Teeth whitening: It's one of the most common cosmetic dentistry treatments available today. It is recommended that patients have their teeth whitened professionally for best results.
Porcelain veneers or crowns: These are thin pieces of porcelain that are custom-made to match the patient's teeth. They are bonded to the surface of existing teeth and can be used to correct crooked, misshapen, discoloured or chipped teeth.
Dental implants: These are titanium 'posts' that look like screws and are inserted into the jawbone to act as a base for artificial crowns or bridgework. They can provide a permanent solution for missing or damaged teeth.
Surgical extractions: Surgical extractions are a beneficial procedure for smile makeovers as they can provide an effective solution for replacing damaged, chipped or rotting teeth. This advanced cosmetic dentistry procedure involves removing one or more teeth from the mouth and then using an artificial replacement in its place.
The team at Value Dental Centres will work closely with you to determine which treatments are best suited to your needs and budget. The dentist may also recommend preventive care measures for the best possible results.
What's the Process for a Smile Makeover at Value Dental Centres?
The smile makeover process begins with a consultation, where the cosmetic dentist evaluates your mouth and facial structure. You may have already had a consult with your regular dental practice where they have determined the service you need but further consultation with Value Dental Centres will further confirm your suitability for treatment.
The practitioner will then suggest treatments to give you the best possible results based on the services we provide at Value Dental centres: Dental implants, veneers, crowns, dental bridges and surgical extractions.
Once the treatment has been determined we will begin your smile makeover process to have you smiling your best smile in no time!
Understanding the Value and Role of Cosmetic Dentistry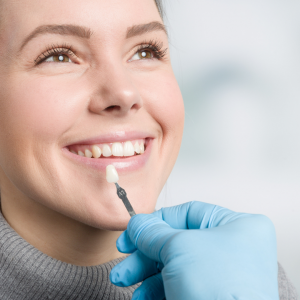 At Value Dental Centres, we have the experience and expertise you need when considering investing in a cosmetic smile makeover. Our team is dedicated to providing quality service with results that exceed expectations.
So if you're looking for an experienced cosmetic dentist who will take the time to understand your goals and create a treatment plan that's right for you, Value Dental Centres is here to help!
Contact us today to find out what's involved in a smile makeover and get started on achieving your best smile yet!